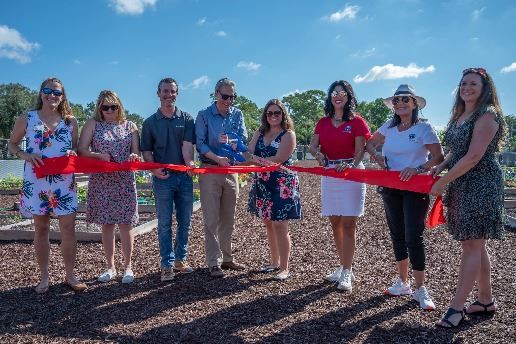 The Junior League of Boca Raton, Brightline, City of Boca Raton, Community Greening and Tree City USA celebrated the grand opening of the new community garden on October 16, 2021.
JLBR Community Garden – Cultivating a Community
The mission of the Junior League of Boca Raton Community Garden (BRCG) is to cultivate the spirit of community and enhance quality of life by creating and sustaining an organic garden of vegetables, flowers, plants, and trees. The garden fosters environmental sustainability and stewardship, advances horticultural and nutritional education, provides a beautiful and natural retreat, and produces a healthy supplemental food source for its gardeners and the hungry.  The Junior League of Boca Raton founded the BRCG and is responsible for managing and maintaining the garden. The City of Boca Raton provides the land and water for the garden.
Contact Info: Garden@jlbr.org
Visit the Boca Raton Community Garden
The garden Is Located at Meadows Park (1300 NW 8th Street Boca Raton, FL 33486). 
Garden hours: Monday to Saturday from 8:00 AM to 7:00 PM, and Sunday from 8:00 AM to Sunset. Please remember to always keep the gates closed to keep iguanas and other wildlife out.
Free Garden Class Workshops
The community garden will be sponsoring Free Garden Class Workshops for all to attend! Class schedules are presented in the June/July Newsletter. 
See past Garden Gazette Newsletters below!
June & July 2022 Garden Gazette
Butterfly Garden 
Florida has over 200 species of butterflies, some of which cannot be found anywhere else on Earth. A butterfly garden attracts wildlife, bringing butterflies and more into the garden for purposes of enjoyment, observation, study, and photography. But it's also important to the ecosystem/habitat conservation. And don't forget the therapeutic benefits! Our butterfly garden will also provide a soothing retreat from everyday life and some amazing aromatherapy.
Support the Garden
If you are interested in leasing a garden plot, please click here. Only one plot per household. Click here to review the Handbook for Gardeners.
If you are interested in purchasing a brick or garden bench, please click here.  These bricks and benches can be used to commemorate a loved one, promote a business, or honor a special event or person in your life.
Our History
The first space of the BRCG was donated by the City of Boca Raton in 2010 for use as a community garden as proposed by Mayor Susan Whelchel. Mayor Whelchel entrusted the Junior League with planning and launching the garden. Architect Wayne Tonning donated the landscape planning for the garden and Sunflower Landscaping, Whole Foods of Boca Raton and Zimmerman tree service also donated significant time and financial resources to help the community garden become a reality. BRCG broke ground on Earth Day 2010.  After that, the Junior League of Boca Raton has managed and supported the garden, housed a total of 97 plots that are leased to Boca Raton residents on a yearly basis. 10% of all fruits and vegetables harvested by individual garden plots were donated to Boca Helping Hands. 
Historically, BRCG has been the largest community garden in the state of Florida, and we look forward to continuing that once the new space is open.  The original Garden boasted a beautiful pergola sponsored by Whole Foods Market Boca Raton, a Wildflower Walk, and a Permaculture Garden. Additionally, as a homage to Boca Raton's history of pineapple cultivation, two pineapple patches with 50 donated plants and fruit trees were planted in 2013. Two rows of carambola (starfruit) trees flank the pineapple patches and both contribute fresh and delicious fruits.
The wildflower garden was made possible through The La Florida, "Land of Flowers," Community Planting Grant which allowed Master Gardener Betsy Pickup and butterfly gardener Elisabeth Hoffman to plant and promote native Florida wildflowers in the garden. The Wildflower walk was planted in Fall 2015 and blossomed into a buzz of pollinator activity and beautiful wildflowers that enhance the park-like atmosphere in the garden.
In 2015 under the guidance of gardener Lynn Russell, who is certified in permaculture, a permaculture garden was established with the assistance of the Junior League of Boca Raton and other community volunteers. The permaculture garden incorporated the four core principals of permaculture, which are Care for the Earth, Fair Share, Care for People,  and Produce No Waste.   Through education and by providing a positive and direct experience of organic gardening in action, our goal and mission at the BRCG are to promote and support environmental sustainability and the permaculture way of life. The permaculture garden yielded many pounds of highly nutritious organic fruits and vegetables of which 100% was donated to Boca Helping Hands. We look forward to continuing these traditions at our new home of Meadows Parks.
Please note that work at the Boca Raton Community Garden is not permitted to commence until the Release of All Claims and the Garden Agreement and Rules has been printed, signed, and returned. These forms can be placed in the drop box located near the entrance of the Boca Raton Community Garden or dropped off/mailed to the Junior League of Boca Raton office located at 261 NW 13th Street, Boca Raton, FL 33432.
Click here to download the Release of All Claims and the Garden Agreement and Rules.
2021-2022 Community Garden Sponsorship Announcement:
Special Thanks to Life Extension for their generous sponsorship of the community garden!